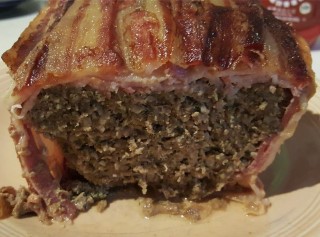 The calorie count and the fat count can differ based upon the meat and the amount of bacon that you use. The grease that is in the bottom of the loaf pancan be saved and used to different purposes. It can be used as cooking grease, it can be used to flavor biscuits, flavor sausage gravy or other purposes. https://youtu.be/zExTg8MDQus
What is not to love about a meatloaf that is not only low carb, gluten free but also keto friendly?


Ingredients


Directions:
Preheat oven to 350 degrees.
In a large mixing bowl with an handheld mixer, combine the first 12 ingredients. Mix on low until well combined. Take a regular size loaf pan or a bread loaf pan (same thing), and lay a few slices of bacon on the bottom of the pan to make a nice bottom. (I have found that lining the bottom of the pan with parchment paper makes taking the meatloaf out of the pan extremely easy!) Take the bacon and line the sides of the loaf pan so that you have a good wrapper for the meat loaf then using a metal spoon scoop the meat mixture from the bowl into the loaf pan.
Cook in the oven for 90 minutes, or until a meat thermometer shows 180-190.
Remove from the oven, let stand for about 5 minutes to let cool. You can also take this time to drain the bacon grease from the meatloaf pan and put it into a jar or something.
Bacon grease.

I have heard of some people leaving out 1/2 lb of meat and filling it with 8 or so ounces of cheese, such as cheddar cheese.