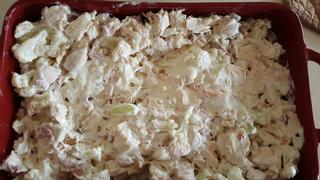 Chicken Bacon Ranch Casserole
Ingredients:
1 - 2 lbs of cauliflower florets (frozen cauliflower can most times be cheaper than buying a head of cauliflower)
1 lb of bacon (optional)
8 ounces of cream cheese
1 cup of heavy whipping cream
1/2 cup of mayo of your choice
1 packet of hidden valley ranch seasoning or 1 ounce of your own mixture of ranch dressing seasoning.(Some alternatives - Moms's or Walden Farms)
2 - 3 chicken breasts
Directions
Pre-Cook the chicken
Add the cauliflower florets into a 9x13 pan
, drizzle with a little bit of olive oil
or butter, and bake in the oven at 350 for 15 minutes if the cauliflower is thawed. If frozen, place in the oven for 30 minutes. While the cauliflower is cooking, this is a good time to cook the bacon in the oven as well.
While the cauliflower and bacon is cooking in a mixing bowl
add the softened cream cheese, mayo, heavy whipping cream and ranch seasoning to the bowl
and using an imersion blender
or a hand blender
mix well.
Cut the chicken into bite size pieces and place into another mixing bowl
.
Add the bacon (if you want) and the cauliflower the bowl with the chicken.
Take the ranch dressing and add that to the bowl with the chicken mixture.
Mix well to coat.
Add to a 9x13 pan
and cook in the oven at 350 degrees for 40 minutes.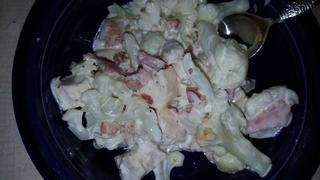 Below is a video of this being done.
Watch this video on Dailymotion - http://dai.ly/x6hzgp4
Watch this video on DTube - https://d.tube/v/jmrados/qn6ui1bf
Watch this video on YouTube - https://youtu.be/wlZinwpGxNs