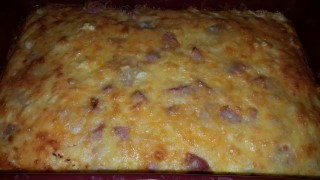 In my quest to find a replacement for the Ham and Egg bake that my family loves to have for breakfast in the AM, i decidedto take out the high carb ingredient (potatoes) and replace it with a low carb alternative (cauliflower). This needed to cook longer than a traditional egg bake does, possibly due to the extra water in the cauliflower, but it still turned out to be good. I did not put any "seasoning" on this, but some ground pepper seemed to compliment this fairly well.
If ham is not your thing, you can certainly replace the ham with another protein source, or you can leave it out all together. I have used turkey ham from time to time when is on sale and cheaper than the regular ham product.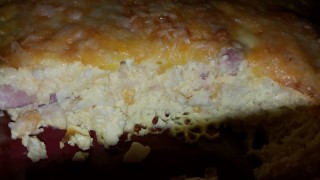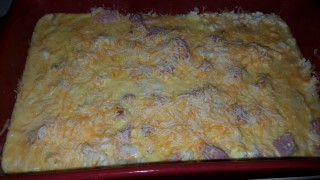 Ingredients:
12 eggs
3-4 cups chopped ham or turkey ham
1 head of cauliflower cut up into small pieces
1 cup of heavy whipping cream
about 2 cups of shredded cheese.
Directions:
Preheat the oven to 350 degrees
Cut the caulilower up into small pieces
Cook in the oven for about 10 - 20 minutes to soften up the cauliflower.
While the cauliflower is cooking, in a medium bowl add the eggs and the heavy whipping cream (can also use almond milk) and mix together using a immersion blender or a handheld blender.
Chop the ham or turkey ham into bit size pices.
Once the cauliflower is done cooking, let it cool for a bit (unless you plan to make the casserole right away)
add the ham and 1/2 the cheese into the cauliflower and mix well.
Add the egg mixture to the 9x13 pan, then top with the rest of the cheese
Cover with aluminum foil and bake for 30 - 45 minutes.
Remove the aluminum foil and bake for an additonal 45 minutes. Check the casserole at the end of the 45 minutes to make sure that all the eggs are cooked. If they are not fully cooked, cook for an additional 20 - 30 minutes.
Check the eggs about every 15 minutes to see if the eggs are done or not.