Here is a easy recipe for some gluten free, keto friendly mashed cauliflower (fake mashed potatoes)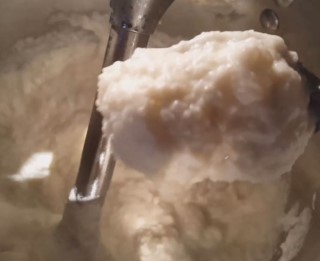 Ingredients
1 head of cauliflower with the steam and green stuff removed and cut in half.
1 8 ounce package of cream cheese
any additional seasonings you like in mashed potatoes
Directions
Trim the cauliflower and cut in half.
In a large pot, boil some water and once the water is boiling add the cauliflower.
Cook until the cauliflower is tender and you can easily stick a fork into.
Drain the cauliflower into a colander
Return the cauliflower to the large pot and turn the heat onto low.
Add the cream cheese and using a immersion blender, blend to the consistency that you like.
If you want you can add in some butter, garlic or other seasonings.
See the video below for full steps
Nutrition Facts

Servings

4.0

Amount Per Serving
calories

236

% Daily Value *
Total Fat

18

g

28

%

Saturated Fat

12

g

60

%

Monounsaturated Fat

0

g

Polyunsaturated Fat

0

g

Trans Fat

0

g

Cholesterol

70

mg

23

%

Sodium

253

mg

11

%

Potassium

0

mg

0

%

Total Carbohydrate

6

g

2

%

Dietary Fiber

0

g

0

%

Sugars

6

g

Protein

7

g

14

%

Vitamin A

12

%

Vitamin C

111

%

Calcium

7

%

Iron

4

%