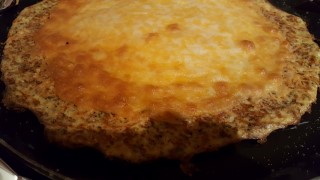 Here is a super easy way to make a cauliflower cheese sticks that are not only gluten free but they are also keto friendly (low carb)
Ingredients:
I head of cauliflower
1/4 cup of parmesan cheese
2 eggs
2 cups shredded cheese
3 or so cloves of garlic
Directions:
Pre-heat the oven to 350 degrees.
Trim the cauliflower and place into a ninja or food processor along with the garlic.
Once the cauliflower is a rice like consistnency, take out and place into a large bowl
Add the eggs, parmesan cheese and 1/2 cup of shredded cheese and mix well.
Line a large pizza pan with parchment paper
Dump the cauliflower mixture on top of the parchment paper and press out until it either fills the pan or is the size that you want.
Bake in the oven for 20 minutes or so, or until the top starts to get a bit golden brown. .
Watch this video on Dailymotion - http://dai.ly/x6hzmpg
Watch this video on DTube - https://d.tube/v/jmrados/ft7geesx
Watch this video on YouTube - https://youtu.be/t4T8pOe8PhY