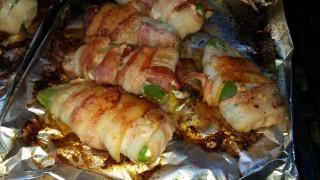 Jalepeno poppers, bacon, cream cheese.. does it get any better than that?
How about grilling, Jalepeno, Bacon, Cream Cheese, Low Carb, Keto and Gluten Free? That sounds better.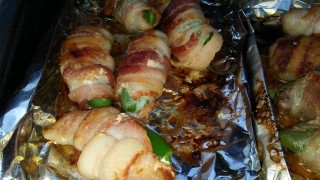 These are great and they
can satisfy just about anyone. If you have someone that does not like spicy foods, you just scrape the inside membranes out more. I had my mother in law try one and she cannot stand spicy things (nothing hotter than ketchup for her) and she even ate a few!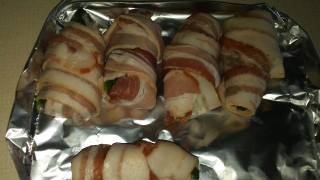 Here is how to make them.
Ingredients:
6 or so Jalepeno Peppers
1-2 packages of cream cheese
1-3 packages of bacon
Directions:
Cut the jalepeno peppers in half and scrape out the insides. If you want them to be not spicy, spend extra time to scrapt out the membranes inside of the peppers
Add cream cheese to one half of the jalepeno then add the other half of the pepper back on
wrap in bacon
Add to a sheet of aluminum foil and cook on the grill until the bacon is done.