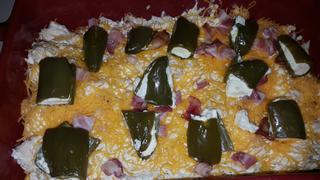 Here is a great casserole to make that only takes a few ingredients and is excellent for the Sunday football games or on a day when you feel like a bit of spice, but not a whole lot. This is also a great warm comfort food to enjoy when it starts to get colder out as well.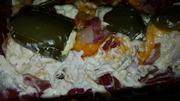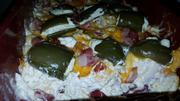 Chicken Bacon Ranch Jalepeno Popper Casserole.

Ingredients
- Jalepeno Peppers
(cut in half and gutted out)
- 16 ounces of Cream Cheese
(or more if you want for the jalepenos)
- 1 lb Bacon
(pre-cook it )
- 3 - 4 Chicken breasts
(or more if you want) and cut them into bit size pieces.
- Shredded Cheese

- 1 cup of real Mayo or more if you want (I used 1.5 cups for a double batch in the video)
- 1/2 heavy whipping cream

- 1 packet of hidden valley ranch dressing mix, or you can make your own.
Directions
Pre-heat the oven to 400 degrees.
Cook the chicken
until done and cut into bit size chunks.
Prep the jalepeno poppers and then wrap them in tin foil and place them into the oven at 350 degrees for about 10 minutes or so until they become tender.
Mix 8 ounces of cream cheese, Mayo and the heavy whipping cream into a bowl and then add the ranch dressing and mix well until combined.
Add in 1/2 to 1 cup of shredded cheese to the ranch dressing mixture and mix well.
Cut up the bacon that you had cooked into small chunks.
Add the bacon into the chicken and add in the ranch dressing mixture and mix well until combined.
Add the chicken mixture to a large casserole pan (9x13 works if you do not double the recipe) and then take jalepeno poppers and cut them in half, then place them on the top and sprinkle with some more cheese about a 1/2 to a cup of cheese.
If you have any bacon left over you can add some to the top for some garnish, or you can eat it while the casserole is cooking.
Place in the oven for about 20 minutes or untiil the cheese is melted and bubbly.