I am a big fan of biscuits and gravy, but when you have Celiac disease those things got put on the back burner as I could not have them. There are biscuit recipes and box kits at the stores for biscuits, but nothing like the real good flaky, buttery biscuits that you would expect to have and not the hard rock things that most of the Gluten Free world has. I had found a recipe online for some biscuits, to which I modified the recipe some and then turned it into a casserole that is just ready to go. You can make the biscuits separate and the gravy separate and just do a traditional biscuits and gravy meal. Rather than doing 15 shots of the prep, and then have one tiny paragraph for the real stuff that everyone wants to see (the recipe) I am just goingto cut to the chase here. You will need a Gluten Free all purpose flour mix (about 2 cups, but for mine I made a large batch as I baked it into a large casserole container). The flour that I wound up using was Aldi's gluten free flour blend, but you can use what ever you want to use. My recipe is the large batch, but you can cut it in half if you are just baking this into a 9x13 pan . Preheat the oven to 350 degrees. Grease the bottom of your 9x13 pan
4 cups of gluten free flour, (I also have a recipe here for gluten free flour)
2 teaspoons of xantham gum (look on the ingredients for your AP flour to see if the xantham gum is included in it or not. If it is, then do not use extra, if there is no xantham gum in your GF flour mix, then add the 2 teaspoons)
1 cup of nonfat dry milk
4 Tablespoons of baking powder
1 teaspoon of baking soda
1 teaspoon of salt.
1 - 2 lbs of pork sausage
4 cups of milk (can use more if you want)
3/4 to 1 cup of gluten free corn starch
2 sticks of butter
1.5 - 1 3/4 cups of buttermilk
black pepper to taste
Pre heat the oven to 350 degrees.
Add all of these ingredients into a food processor(I use a Ninja blender) and blend it into a fine powder.
Add into the blender 2 sticks (16 Tablespoons) of butter and blend it until the butter is cut well into the flour mixture
Once the butter is cut into the flour mixture, add the flour mixture into a large mixing bowl and add in 1.5 to 1 3/4 cups of buttermilk. Lightly fold the buttermilk into the flour mixture until it is all mixed. If you need to add a bit more buttermilk, go ahead and do so, just do not over-work the dough.
Lay out a few sheets of either wax paper or parchment paper on a level surface and dump the dough onto it. Flatten the dough out into about 3/4 to an inch thick. If you have a bicuit cutter, cut out the biscuits to the size you want, or you can use a cup as long as you butter the cup every couple of biscuits you make.
Add the biscuits to the bottom of the 9x13 pan , if they all wind up touching it is fine.
Brown the sausage, and make sure to NOT drain the grease. Once the sausage is browned, add the corn starch into the pan and stir, making sure to not burn the corn starch. Add in the milk, lower the heat a bit (between medium and high) and stir the milk about every minute or so until it thickens up
While the gravy is cooking, you can add the biscuits into the oven for about 6 or 8 minutes to get them cooking a bit. If you dont want to, it will still turn out fine but the biscuits will be a bit doughy like dumplings.
Once the gravy is thickened to where you want it to be at, and it has the right amount of pepper and or salt to it, pour the gray on top of the biscuits in the casserole dish and cook in the oven for about 30 - 40 minutes. You will want to cover the dish with tinfoil first, or else the gravy will develop a thick skin to it.
Once done, spoon up and serve!
The flour mixture.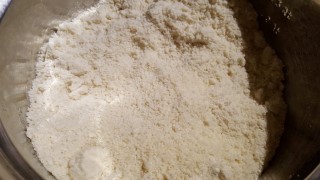 Biscuits being arranged in the large casserole pan.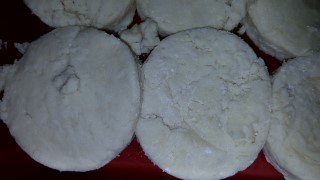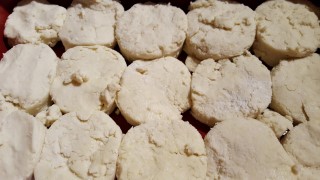 Sausage gravy being made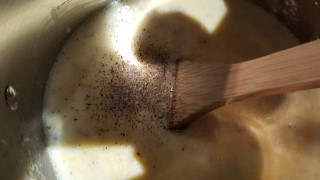 Gravy poured on top of the biscuits ready for the oven.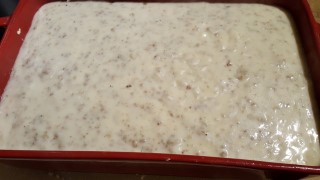 Biscuits out of the oven and on the plate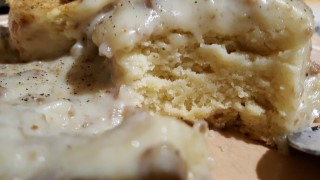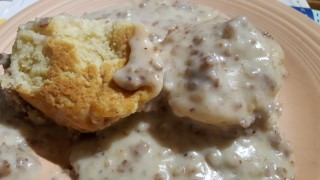 If you want to make the biscuits only, just arrange them onto a sheet pan and bake in the oven for about 20 - 25 minutes. Take one biscuit out and make sure that the center is fully cooked.
Save
Save