This is just a all around good thing to make, not only because you can do this in your crock pot, but becasue it is a nice and hearty meal. A bit of spice to it, yet rich and creamy and the bell peppers give it a nice littile crunch to it.
What is not to like, it is low carb, gluten free, keto friendly and it's a creamy mexican chicken dish.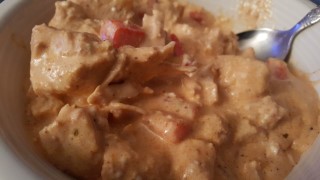 Ingredients:
4 or 5 boneless, skinless chicken breasts
1-2 cups of enchilada sauce
1 red pepper chopped
2 8 ounce packages of cream cheese softened.
4 cups of shredded cheddar or mexican style cheese
Directions:
Place chicken and enchilada sauce in the crock pot and cook on low for 8 or so hours until the chicken is 160 degrees.
Remove the chicken and cut into bite size pieces and return to crock pot
Stir in bell peppers, cream cheese and the shredded cheese into the crock pot
Cover the crock pot and cook for 30 more minutes on low, or until the cheese is melted.
Stir and serve.
Nutrition Facts

Servings

5.0

Amount Per Serving
calories

716

% Daily Value *
Total Fat

59

g

90

%

Saturated Fat

35

g

177

%

Monounsaturated Fat

0

g

Polyunsaturated Fat

0

g

Trans Fat

0

g

Cholesterol

218

mg

73

%

Sodium

1365

mg

57

%

Potassium

79

mg

2

%

Total Carbohydrate

11

g

4

%

Dietary Fiber

2

g

7

%

Sugars

4

g

Protein

33

g

65

%

Vitamin A

58

%

Vitamin C

51

%

Calcium

71

%

Iron

4

%
Save
Save
Save
Save