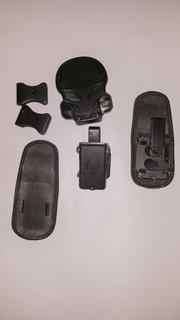 http://aliengearholsters.com/mag-carriers.html
Here is my review of the Alien Gear magazine holster. This is something that I have had for about a month now and here is what I think of this.
Please note, I did not receive anything from Alien Gear or any of it's companies for this review. I did not receive this at a discount, nor did I get these for free.
I paid full price for these magazine holsters
and I am just giving my honest review of them.
above image from Amazon
These magazine holsters so far have been one of the more comfortable ones that I have used with my XD. Previously I had been using the holster that comes with the XD gun,
and I have also been using a cloth like one that I bought off of Amazon (I think). The cloth like one and the XD holster are both OWB (outside the waist band) holsters
and they have their draw backs. The cloth one wore out after a year and the XD holster would get cought everytime I would get out of my car or get up from a couch as I would
carry it on my back side of my pants.
above image from Amazon
The Alien Gear magazine holster is extremely easy to setup, they include all the hardware that you will need for this and they also include all the instructions to get you going as well.
With some of their older gun holsters there was a hex key that was in a bag, but now the hex key is inside of the magazine holster in a little compartment to keep it safe.
All this time of wearing them and I have never lost the hex key (allan wrench) yet. They dis-assemble quite easily to swap between the OWB and IWB (Outside the waist band and Inside the waste band).
For carrying on the OWB they include a paddle to hook both of them up onto this paddle to be a double magazine holster. If you want to do a IWB, they will go individually inside
your waist band.
The hex key is to adjust the retention of the holster tho which works quite easily and that is the only purpose of the hex key. Unlike their older holsters you do not need the
hex key to adjust the height or swap between the IWB and OWB. There is a little knob like thing that you twist which will allow push the lever that allows you to remove the
belt clip.
There are 2 clips that come with, a belt slide, plus the paddle.
For the OWB carry you can have them in just about any way that you want them to be (verticle, horizontal, angled, etc.. )
If you are in the need for a magazine holster, give the Alien gear
a try. They have a 30 day money back guarantee!
above image from Amazon
Watch the video below of my review to see how easy it is to use these magazine holsters.
Watch this video on D.Tube - https://d.tube/v/jmrados/1i34ue30